Big Dogs Don't Have to Be a Big Hassle
Finding Accomodating accomodations when Traveling With Your large Dog(s)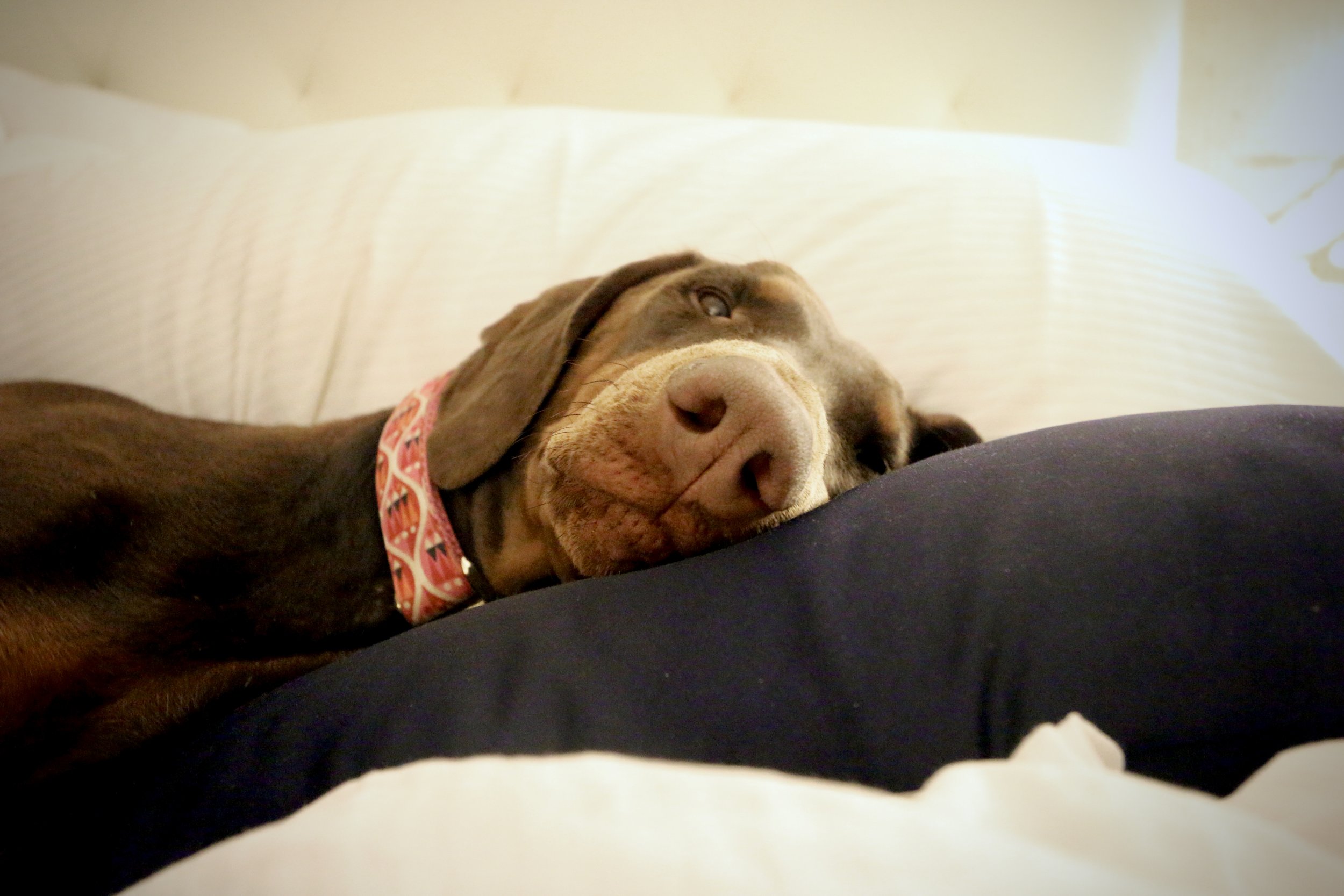 America is increasingly becoming a more dog-friendly place, and for dog-lovers such as myself, this is great news! If you live a life on the go like I do, the ability to bring your dog with you when you travel is a huge stress reliever – not only do you not have to worry about finding and paying for boarding accommodations during your trip, but you and your dog also have the benefit of bonding during new experiences in a new place.
With that being said, my girls weigh a combined 165 lbs (Griffin is about 90 lbs, and Boston is about 75 lbs). While many more accommodations are now pet friendly, many still have weight or size restrictions, that my girls simply don't meet. While this can be frustrating – my girls are better behaved than most dogs that are less than half their size – here are a few suggestions for traveling with large dogs.
Kimpton Hotels – "Wagging Tails Welcome"
Hands down, my first choice for traveling with my dogs is any Kimpton Hotel. Kimpton Hotels have no breed, size, or weight restriction, which is a wonderful option when you have two Dobermans. Not only that, but Kimpton's have no pet fee either (although, be advised that a stay at the average Kimpton isn't cheap, so whether this option is the right one for you will ultimately depend on your budget). Additional pet-friendly benefits offered by Kimpton Hotels include the ability to borrow a pet bed, food bowls, and treats from the front desk and concierge staff.
Despite living in North Carolina, my job is DC-based and involves advocating for dogs on Capitol Hill, so we stay at Kimpton hotels in DC often. The girls have stayed with me at the multiple DC-Kimptons – the Monaco, the George, the Palomar and Rouge. We've had equally great experiences at all of them.
In dense urban areas like DC, there's no shortage of hotels to choose from. The fact that Kimpton is so pet-friendly has definitely made our family loyal to the chain above all others. Not only is it convenient for people like me, but it's also a smart business decision by them.
Other Hotel Chains to Consider
Because Kimptons are boutique by brand, they aren't in every city. Thankfully, there are other pet-friendly hotels that likewise don't have a breed or size restriction, and that can also accommodate any budget.
I take the girls on lots of road trips, and when you need to find a hotel on the road, our favorite option is La Quinta. La Quinta also does not charge a pet fee, and allows up to two dogs per room. More importantly, what I love about La Quinta is the convenience. With over 800 hotels
across the country, no matter where we're headed we can easily find one on our route. It definitely makes longer trips with the girls much easier to plan. Typically, we choose La Quinta when we are driving from here in NC to see family in New England. One of our favorites is the La Quinta in Lexington, Virginia. They're staff has always treated the girls well, and always offers us a room with two beds so that they can have one of their own.
As a former government employee, I was a loyal Marriott rewards member for years. Marriotts offer the convenience of La Quinta with some of the more upscale touches of a Kimpton. However, Marriott pet policies vary from location to location, so you have to check what the specific pet-policy is at your destination. While all Courtyard Marriotts are pet-friendly, not all other types of Marriotts do, and they all charge a pet fee, which also varies by location (typically between $50 to $100).
With that being said, we recently stayed at the Renaissance Marriott and Mid-Town Atlanta, which was by far the most pet-friendly Marriott we've ever stayed it. It was in walking distance to Piedmont Park, which has a dog park, and we saw many other guests with dogs there during our two night stay.
Marriott can be a gamble since the pet-policies vary so widely, but if you do your research ahead of time, you can find a great option for you and your dogs.
We've never stayed at a Motel 6 or a Red Roof Inn while traveling with the girls, so we can't vouch for them personally, but they are both great options in terms of cost and convenience. They likewise have no pet fees and no breed or size restrictions. Similarly, Best Western is right up there in terms of price and convenience, but does have an 80 lb weight restriction, which prevents us from bringing Griffin. Even though we haven't personally experienced their pet-policies, we've heard good things from others who've stayed there with their dogs.
And, of course, if you have a smaller dog, you will have more options available to you. For example, chains such as A Loft and Westin, are pet-friendly but have a 40-lb weight limit.
AirBnB, HomeAway and VRBO – Some Important Lessons We've Learned
Tip: Just because you don't mind your dog on the furniture, doesn't mean your host will feel the same way. Always clarify what the rules are and aim to be respectful.
AirBnB, HomeAway and VRBO are all fairly recent phenomenons (as is the sharing economy generally – think Uber and TaskRabbit), but they offer great alternatives to hotel accommodations for travelers. Basically, all three connect homeowners with travelers for short-term rentals. Because you're usually dealing directly with the home owner (or a rental service), many are pet-friendly. The downside of course, is that because you're dealing with individuals, you're also dealing with different policies at each rental.
To see whether a rental is pet-friendly, go to amenities and check the box for pet-friendly. This should filter out non-pet-friendly options. Because the specific pet-policy is up to the
homeowner, it's always a good idea to check with them first regarding the pet policy.
I learned this the hard way recently when staying at an AirBnB in Jacksonville Beach, Florida. The listing we selected was advertised as pet-friendly, and after reviewing all the rules, we did not see a breed or size restriction, so we booked it. We didn't hear from the host for several days, so we assumed everything was fine. (Lesson number one: when the website says to follow up with the host to be sure about the pet-policy, the really mean it. We could've saved ourselves a headache had we done this initially).
However, the night before our stay, we received an email asking questions about the dogs. When I told him they were large, he stated that the property was not meant to accommodate dogs of this size. We corresponded back and forth – I let him know that we're pretty active (whether traveling or not, we typically walk/hike an average of 5-10 miles a day so the dogs would mostly be sleeping while in the unit, and reiterated to him that they were well-trained and well-behaved (more on this later). I also gave him the option to cancel the rental, but asked that he let me know quickly so that we had enough time to find an alternative accommodation. He said we could go ahead with the reservation. (Lesson number two: if a host seems unsure or asks lots of questions, it's probably best to look into another option. Just because you love your dogs doesn't mean everyone else does, and that's perfectly OK).
Because I love traveling with my dogs, I try really hard to be a good house-guest. Yes, our rental was small, but it was larger than the average hotel room we stay at in DC. But, whereas a hotel has housecleaning staff, sharing economy rentals do not. Our rental in Jacksonville Beach had a tile floor, so even though Dobermans have short hair, it was visibly everywhere after our three day stay. I figured I'd do my own quick clean of the place before we left, but there was no broom, dustpan, brush, vacuum, or any cleaning products, anywhere in the unit. I tried to wipe up some of the dog hair with damp paper towels, but my success was limited. I left a note apologizing to the cleaning staff with a generous tip to try to make up for it, but nonetheless got a nastygram from the host about the situation after checkout. (Lesson number three: just because you're used to pet hair, doesn't mean your host is. Try to be a good guest, and don't assume rentals will be equipped with what you need to clean up after your dog. In the future, we will travel with some Clorox wipes to avoid this type of situation in the future).
Thankfully, after corresponding back and forth several times, including about the fact that no cleaning supplies were provided, the host and I reached an understanding and we weren't charged for any damages beyond the additional pet fee we agreed to up front. (Lesson number four: whether traveling with your pet or not, snap a few photos of the place upon check in and check out, to make sure you don't get blamed for anything that may result in an extra fee).
Some Additional Considerations
It's always important to remember that, just because you love you dog(s), that doesn't mean that everyone else has to. Pet-friendly options are great, but in order to encourage more hotels and vacation rentals to be pet-friendly, try to be considerate of this during your stay.
Make sure your dog is well-trained. While most pet-policies base restrictions around weight, size, or breed, my well-trained and well-exercised Dobermans are better guests than many neurotic lap dogs. If you're dog isn't well-trained and well-socialized, i.e., doesn't obey basic obedience commands, does not have proper leash manners, or will bark incessantly at strangers, leave them at home. Misbehaved dogs ultimately restrict pet-policies, which makes things harder on dog-lovers everywhere. For this reason, I only traveled with Griffin initially. B is more shy, and does not enjoy strangers reaching down to pet her without asking. Until I felt comfortable with improving her socialization, we were better off leaving her at home. C'est la vie.
It's not the crime, it's the cover up. Take responsibility for your dog's behavior. Even the most well-trained dog can have a bad day. If you're dog misbehaves, i.e., barks, has an accident, etc., take responsibility for it. Most hotel staff and vacation rental hosts understand that mistakes can happen, but trying to sweep the issue under the rug ultimately does more harm than good.
Plan ahead. As noted above, pet-policies can vary from location to location, and some places may not be as well-versed in the pet-policies as others. I always try to read up on the full pet-policy ahead of time and, in the future, this will include doing an additional follow up with any sharing economy hosts. The more prepared you are with what to expect with your dog, the more enjoyable your stay will be for you, your pet and the other guests.
Thanks for reading!